Blue Fin Tuna is among the highly prized types of Tuna that roam the deep blue waters. Not only are they a valuable source of food, but due to a surplus of blue fin tuna fishing, the specie is nearing extinction. This fish is categorized as regal, with its streamlined body and tapering tail, weighing close to 1,500 pounds! The shimmering blue of its skin and spotted underside makes the Blue Fin Tuna sparkle within the depths of the ocean. Have a look at some great tuna fish photos we have collected through the years. Not only are they beautiful and resourceful, but they are skilled migratory animals. Amazingly, some species of tuna will travel thousands of miles during their migrations.

You can spot the Blue Fin Tuna off the shores of Cape Cod. Love the sea and enjoy fishing? Cape Cod is a mecca for all types of fisherman. Jump aboard our Cape Cod fishing charter trip and experience nature at its finest with Big Fish Charters. Step off land and discover the wild ocean, feel the salt water breeze against your face as you reel the lure in for the catch!
Travel into the depths of the ocean and if you're lucky, you might be able to witness the feeding frenzy of the Blue Fin Tuna. The main diet of this fantastic creature consists of schooling fish such as gar, herring and mackerel. It is an amazing sight to watch the blue fin tuna when it is pursuing its prey. These powerful creatures will swim just beneath the surface of the water traveling tremendous distances at high speed just to feast on their prey.

Of the different species that are caught, the Blue Fin Tuna is highly prized due to its succulent dark red meat. The blue fin tuna can live up to forty years and is by far the most traveled occupant of the ocean. Studies have shown that this fish in the tuna family is capable of covering the entire span of the Atlantic Ocean in less than fifty days. This would make the Blue Fin Tuna one of the fastest moving fish in the ocean!

Enjoy the untouched beauty of the New England area, aboard your tuna fishing charter. Experience the captivating sites while enjoying the splendor of the Blue Fin Tuna in their natural environment!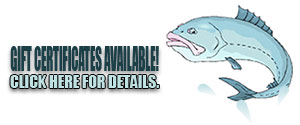 TUNA FISHING SPECIAL
SPECIAL - $1,380.00 for up to 6 people
($230.00 each for 6 people)
Click here to reserve a Tuna Fishing Charter Today!