Shark Photos | Shark Recipes | Shark Fishing Pricing | What to Bring
Mako Shark | Monster Shark Tournament | Reservations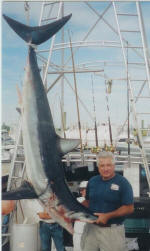 Shark Fishing is a wonderful way to expand your fishing resume. Blue Sharks are the predominant species in our area in Massachusetts, near Boston and Plymouth. Mako Sharks, Porbeagle and Threshers also frequent our waters and are excellent to eat. Sharks range from 100 to over 1,300 pounds, but most range from 100 to 350 pounds. The best time for shark fishing in the Northeast is late July, August, September and October. Fish all day for shark or try our combination trip with half day shark and half day cod, or half day bass and blues. Take a quick look at some of the best shark photos we've taken through the years.
New England sharks are usually caught in deep water from 150' to 500' east of Stellwagen Bank. Best time for Porbeagle sharks is July and August. These sharks look similar to mako sharks but are not usually as aggressive and usually don't jump when hooked. Fishing for Mako sharks is most common in late July, August, September and October and they are usually very aggressive and make spectacular jumps when hooked. Mako sharks have been caught from Marshfield Massachusetts over 1,300lbs!!!
Massachusetts has been recognized as one of the best places in the world to fish for big, monster sharks! The famous monster shark tournament is held in Oak Bluffs, Massachusetts each year. Bigfish Charters is available to charter those who want to fish for big sharks during the Monster Shark Tournament. Contact us for further details.
Thresher sharks are most prevalent during August, September and October and are known for their very long upper tail fin which is sometimes as long as the body of the shark itself. All three of these sharks (Makos, Porbeagles and Threshers) are excellent eating.
The most common shark in Massachusetts and New England is the blue shark. They usually range from 100lbs to over 450lbs. Most blue sharks are released. Shark Fishing in New England can be fast action once the sharks are attracted by a chum slick. On most days the charter catches 1-5 sharks but we have had hot days with close to 20 sharks caught and released. See our recent fishing reports off the Cape to see for your self the success our charters have had.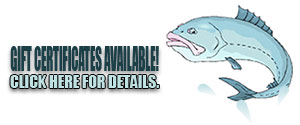 SHARK FISHING SPECIAL
$1,680 for up to 6 people
$280 each for 6 people
Remember to ask about charters during the
monster shark tournament
Click here to reserve a Shark Fishing Charter Today!