Shark Photos | Shark Recipes | Shark Fishing Pricing | What to Bring
Mako Shark | Monster Shark Tournament | Reservations
Fishing for Mako sharks is most common in late July, August, September and October. They are usually very aggressive and make spectacular jumps when hooked. Mako sharks have been caught from Marshfield, Massachusetts weighing over 1,300 lbs! Shark fishing charters through Big Fish are second to none. Book now and find out what all the talk is about.
Traveling up to 22 miles per hour, the Mako Shark is considered one of the world's fastest sharks. Combined with their jumping skills, the Mako shark makes for an exciting challenge during any charter from Big Fish. (and remember, we also are available during Monster Shark Tournaments!)

Mako's average 5-8 feet long but can reach 12 feet long, weighing 1,000 pounds. Some of the largest Mako's are found in New England waters (see for yourself with these shark pictures). They are deep ocean swimmers and hunters but they are also found to come inshore often. Mako's diet includes school fish, tuna, herring, mackerel, swordfish and dolphins. They are not picky eaters when hungry, eating almost anything in their path.

Their teeth are fierce and resemble curved knives, aiding to the "mean-ness" of their appearance. They are fighters and dangerous. A skilled and experienced shark fishing guide can assure an adrenaline pumped Mako fishing charter!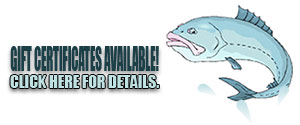 SHARK FISHING SPECIAL
$1,380 for up to 6 people
$230 each for 6 people
Click here to reserve a Shark Fishing Charter Today!